Bats in your house especially an attic areas happen all the time but what about a basement?  Bats are a concern and you may need to hire a qualified exterminator like Envirocare Pest Control to perform a bat exclusion.
The bat caught in this mouse trap was taken in a home in Southbury, CT.  The bat was found dead in the trap  in December.  The homeowner was kind enough to take this picture for me so that it could be shared on our website.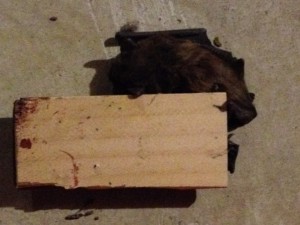 There are two bats species in Connecticut, the big brown bat and the little brown bat.  Of the two, the big brown bat has the ability to overwinter in homes.  The little brown bat typically will head to caves located in and around the state for the winter.
Big brown bats will emerge from winter hiding on warm days or possibly when they are fooled by the warmth generated from the interior of the home.  Bats can be found in any area of the home that they have access to.
Bats in a basement typically come from upon wall voids, fireplace clean outs and hollow wood chimney chases.
Bat exclusions should not be performed in the winter as there's the off chance of trapping a bat in the home which would have normally emerged outside during the spring.
If you live in Southbury or the surrounding towns and have bats. Call Envirocare Pest Control at 1-888-879-6481. We can help